Today's visit with Gabe went fairly well.  He started to get tired at the end and began to cry. He then snuggled his face right against my chest and for the first time he stopped doing all of his nervous behaviors.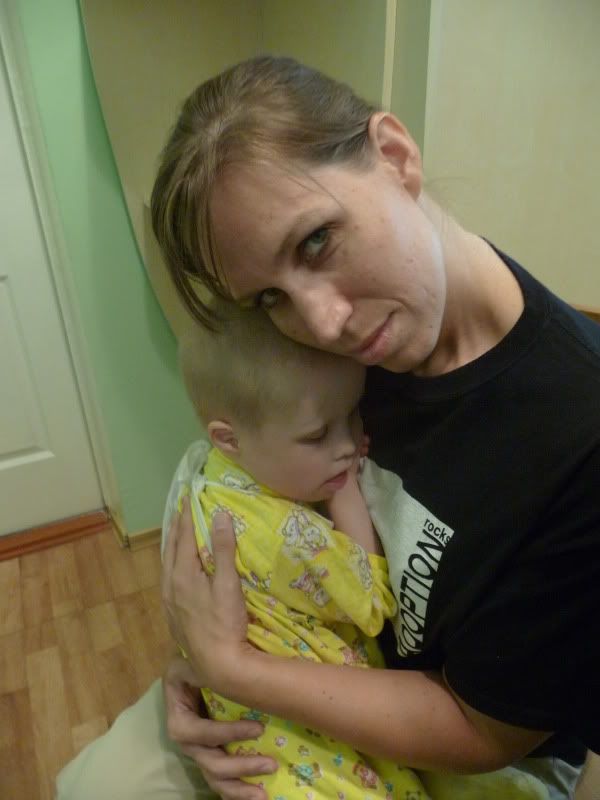 I didn't want to let him go. I hate that we only get one hour twice a day with him.




When we came for the second visit I decided that we should attempt to bring him outside. For him to get used to it and for us because sitting in the lobby is not enjoyable at all. The smell of urine and vomit is overwhelming and the constant screaming and moaning of the kids locked in their cribs is heart wrenching. 

I took Gabe in my arms and quickly walked outside as the Nannie was rambling off something in Russian. He of course was crying and panicked.  He will cry with the simplest movement, forget trying to stand up and walk with him. I don't know if he feels like he is going to fall, he doesn't like the change, I don't know but I sure wish I could help him. 

He continued to cry while clinging tightly to me, burying his face in my chest.  A few minutes later the Nannie came out with a bottle of what looked like tea. Gabe refused to take it. This is the second time he refused the bottle when it was just a liquid. It has me concerned about him getting dehydrated. 
The nanny kept rambling on about who knows what and then she took Gabe from me and put him in his stroller. She buckled him in and motioned for us to push him back and forth. All the while of course Gabe is upset. We kept shaking our heads no, knowing that the last thing he needs is fast movement. 
The nanny then takes Gabe and pushes him inside. She takes him out of the stroller and says, paka paka paka. I recognized that word meaning goodbye. We had only visited at this point for maybe 10 minutes. I looked at her, shook my head and said "nyet!" I took Gabe out of her arms and sat on the bench with him.  After several minutes he calmed down. He ended up in Daddy's arms and by the end of the visit I had to get up and walk out (we were past due for our visit with Levi) to get Guy to hand him back to the nannies. 

We have a hard time keeping ourselves from being angry. We look at our 6 year old and wonder how anyone can allow such trauma.




We feel his spine and hip bones poking out and want so badly to feed him. It's all we can do to sit there and not get up with Gabe in our arms and run out of that place to freedom. I can't imagine having to spend my life in the condition that he has. Starving, scared, dirty. Hours and hours enduring the wails and cries of the other children in his room. 

Soon Gabe.

Soon you will know what a full tummy feels like. 

Soon you will sleep in a comfy,clean bed of your own.

Soon you will feel safe in YOUR HOME that is filled with laughter, and fun. 

You will soon know the love of family and friends. 

Soon. 




It shouldn't have taken 6 years for you to experience this. We are so sorry.

This is what a visit can look like. He actually calmed down really fast here. Typically it takes longer to get him to relax. We found that if we sit him facing out and don't put our arms around him right away, giving him space, he will eventually feel safe.



This is his reaction every time we move him. And yes, his Daddy thinks he is a comedian. We take Gabe's condition very seriously but we found that we have to laugh or we would go mad



His food. 6 years old and this is it.