I decided today that if the Nannies insisted we take Gabe outside like they did yesterday that we would go, and keep going. 

No, I didn't make a run for the gates, but don't think it didn't cross my mind. 

Yesterday we just sat right out in front of Gabe's building and that's why the Nanny came out and interfered. I wanted to avoid that today.

As soon as we walked in they quickly brought Gabe out already buckled up in a stroller. I did just as I planned and walked him right outside. But instead of sticking by his building I told Guy we should walk on down by Levi's building, out of eyesight of Gabe's workers. We walk the whole grounds with Levi so I know that it is allowed.

Now, I don't want to make the Nannies all sound like terrible people. Actually I have been VERY touched by their compassion for our boys. I had heard stories of how most of them can be towards the kids and that is what I expected. Honestly though, I can tell that they do care about my boys. Whenever we walk by with Levi they always yell out his name, waving and smiling happily at him. Gabe's Nannies have held him, sung to him, rubbed his face. 
The problem is not that they don't care, I feel it's simply lack of knowledge on how to care for them. 
The last thing Gabe needs is harsh and sudden movements, or to be spoken loudly to.
I keep thinking that if they just had more education here on how to treat the different needs of these children, and of course if they had more workers, it would be life changing for these kids. 

We all sat down on a bench and did our usual routine with Gabe of letting him sit to the side of Guys lap and not confine him, while talking quietly to him. I really don't think he has ever been outside. They told us that since he always cries they never took him out of the orphanage for care and would instead have the doctors come to him in his crib.
How often an actual Doctor came to see him I don't know, and how one could possibly leave him in his condition. Well, lets not go there.

He sat on Guy's lap and cried for one hour straight.

Guy didn't want to let him go and so he decided to keep him while Genesis and I went to get Levi and bring him out for his visit.

We were told the first day that we couldn't visit the boys together because they didn't want them in each others rooms to prevent cross contamination. 
We get two visits a day from 10-12 and 4-6.  Because of the no mixing thing we get each boy for only one hour per visit instead of the whole two hours. 

Except for today.

Hey, they never told us we couldn't have them together outside.

When I came down with Levi, Gabe was content. Guy said he stopped as soon as I left. Thanks a lot Guy.

At the second visit I brought Gabe directly outside to the same bench and he stopped crying as soon as we sat down. Progress!

Genesis and I went to get Levi who promptly ran to each of us and gave us a big hug. Oh how I adore him.

We had a wonderful visit.  Gabe was full of smiles. He kept smiling whenever anyone would walk past us, it was the neatest thing. 

It was so nice to have a full two hours with the boys, TOGETHER.

Brothers together for the first time. 

My sons.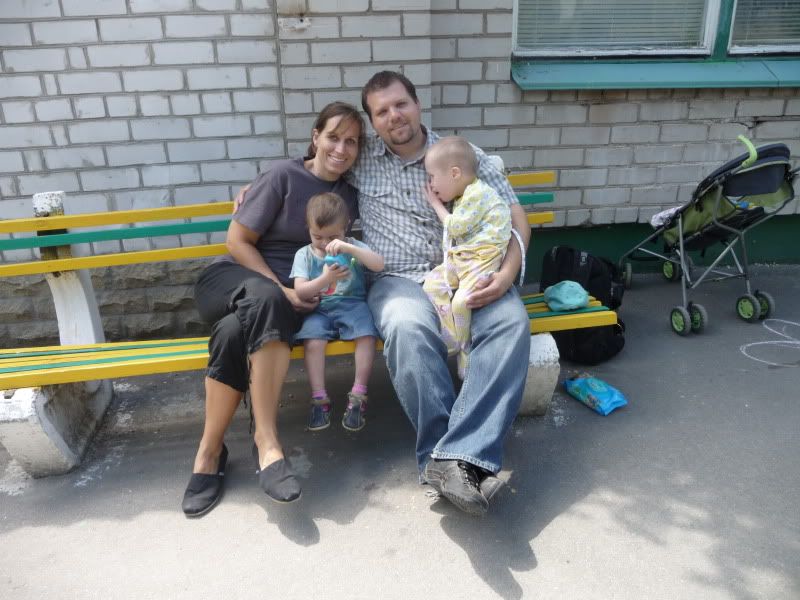 To say Daddy is attached would be an understatement



Check out them boxers. This boy is stylin