Last night at 8pm we boarded a train (I was in shock about it the entire time, will blog about that later) and headed to Zap. We arrived at almost 6am. It was pouring rain and cold out. We ran to our car and drove to our apartment (which I was also in shock over and will blog about later) where we unpacked and showered and enjoyed a cup of coffee.
At 9am we left to do some running around getting papers signed, and then finally off to the orphanage.

Driving in to the orphanage felt very surreal. I looked at the Ukrainian flag that Levi loved to come out to to sit under and watch it blow in the wind. Memories flooded my mind as we walked past the colorful bench that we sat at for hours holding our very frail, crying, terrified little Gabe.

After meeting the director we met with the orphanage doctor. There she told us all the history they have on Kole. He was born at 36 weeks via C-Section. He was 4 pounds 6.5 ounces at birth and they said they could tell right away he had Ds.
His records say he has an extra "string" in his heart, bowed legs, flat feet, and of course Down Syndrome.
They report Kole to be able to repeat a few syllables, but say he doesn't talk much. He can follow directions, like if you ask him to stack the blocks. He feeds and dresses himself and they said he loves music and loves to dance!

The social worker and doctor both expressed how thankful they are that he is finally getting adopted as no one has ever inquired about him his entire life.

My facilitator cannot understand why it seemed that in the past Kole had been unavailable for adoption since his records clearly state that his parents signed over their rights and had him placed in an orpahange right after his birth.

She said to me, "The only explanation is that God saved him for you"

Yes, yes He did.




Oh how I longed for this day



First time meeting Daddy. I think he was a little unsure, maybe because they don't see men very often, or maybe he's not a Vikings fan;)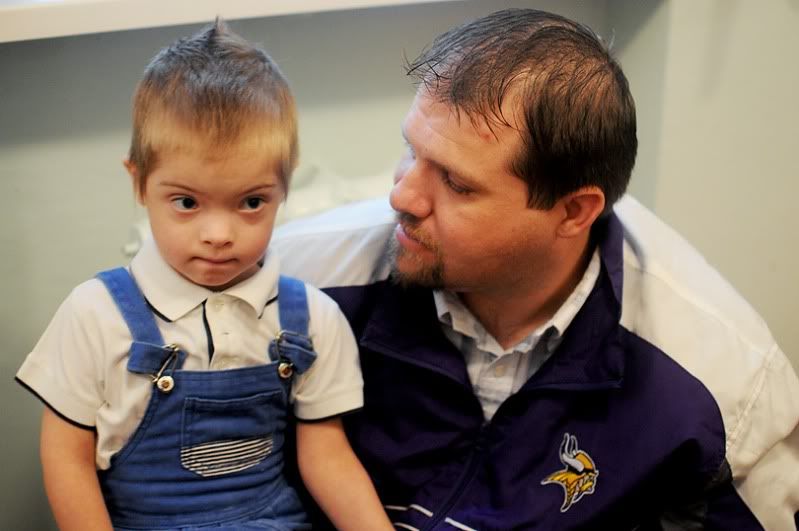 They took him away right at lunch time to meet us. He was very ready to get back to his meal!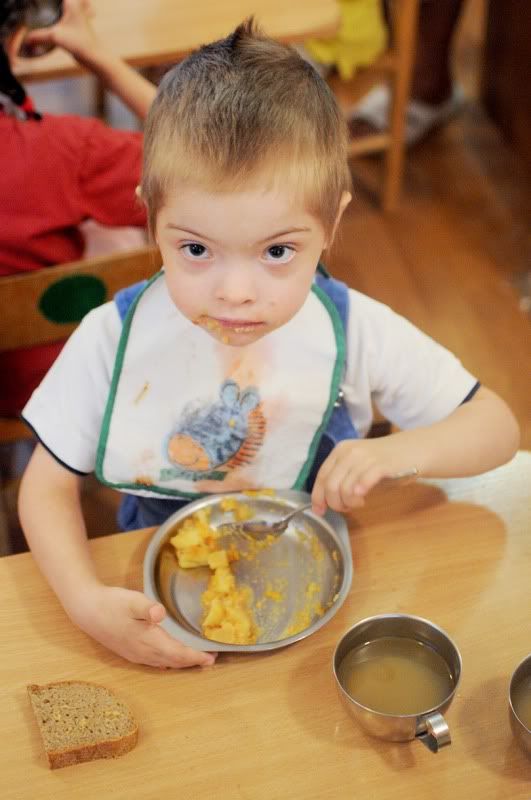 Another lefty like Levi and Papa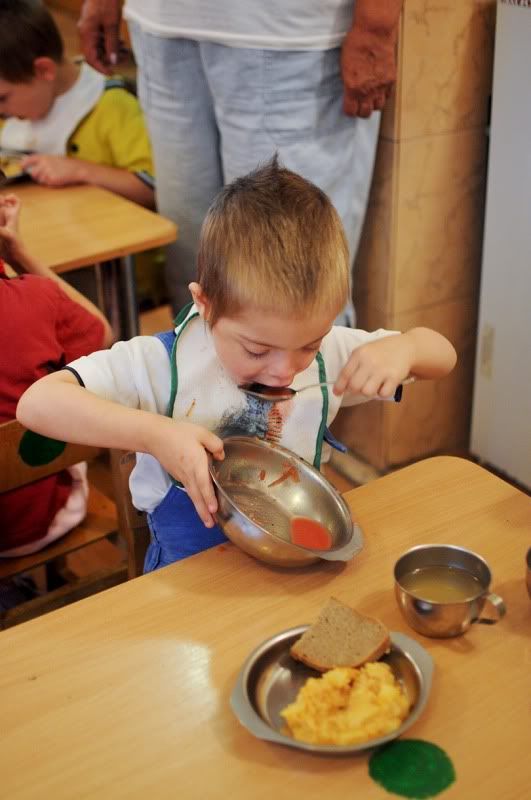 The Nannies LOVED looking at the album I brought of Levi filled with photo's of him this past year. The Nanny here said she recognized us from last year. They all looked, laughed, and smiled, remarking that Levi looked totally different.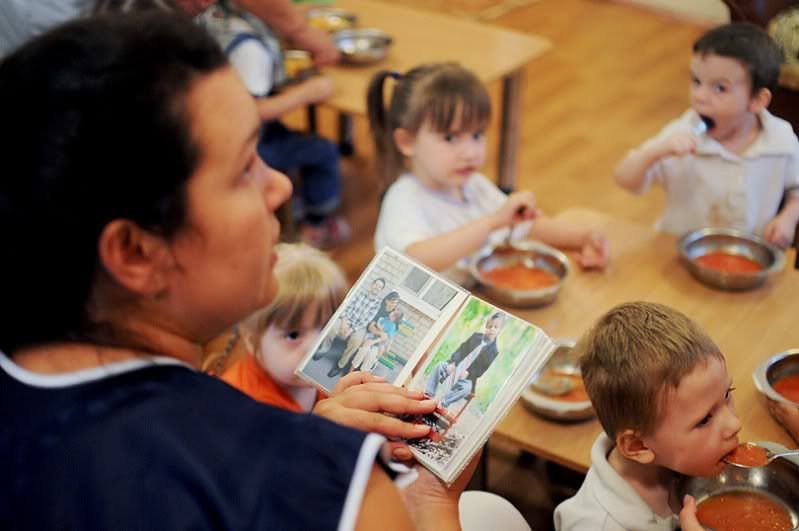 Right after lunch the kids each take their chair and line it up at the back of the room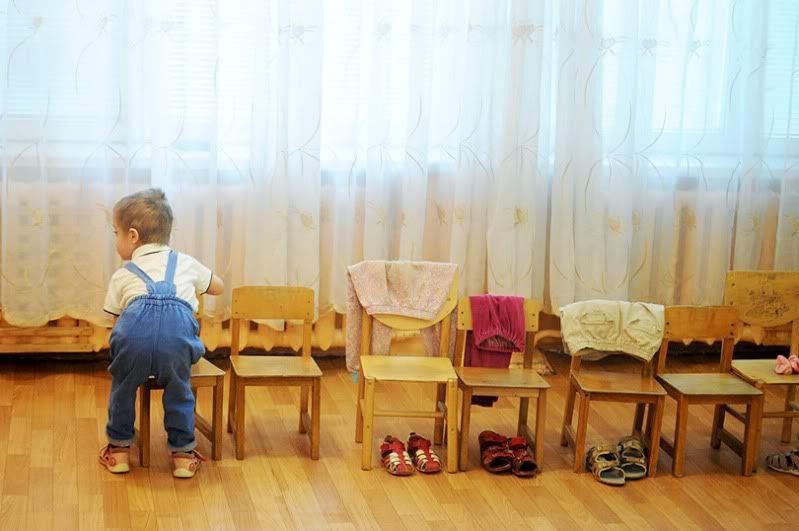 Kole seemed to be a stickler for the routine so he was anxious to get his chair in place and get undressed to go potty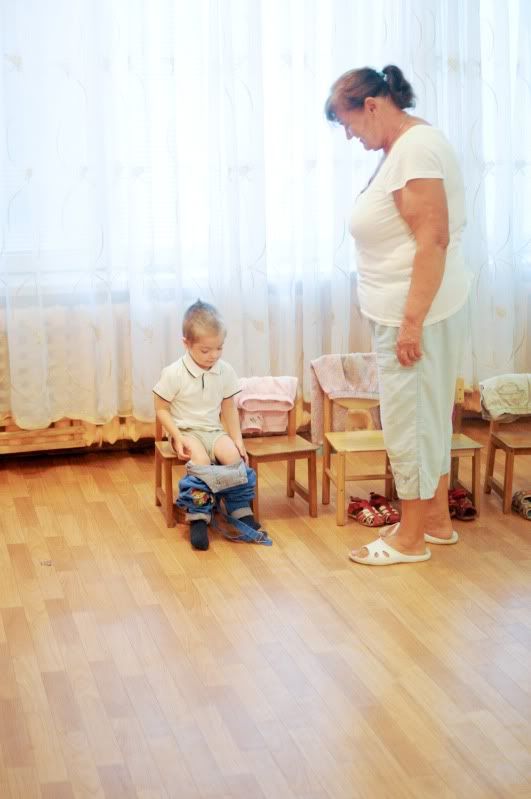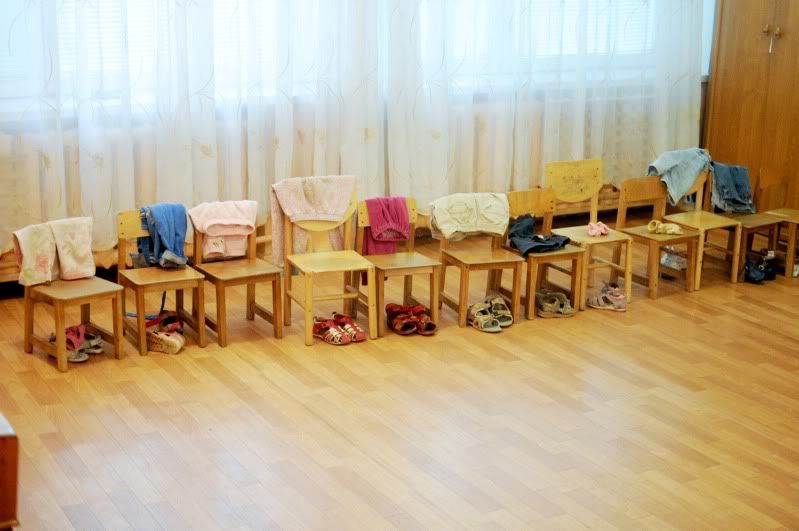 It was time for the kids to all take their naps so we had to leave. We will be allowed to visit Kole everyday from 9am - 11:30 & 4pm - 6:30.
We will visit until we have court which should be in about 2 weeks. After court, we will get Kole out and he will stay with us while we wait for his passports. Once the passport is in (2-5 days), we will take the train back to Kiev where we will finish up paperwork for 2 days, then head home!! I am thinking if all goes well, we will be home by the end of the week of September 17.

I am in awe that God has allowed me to be this child's mother. This whole adoption so far has been amazing. I can't wait to get back to him tomorrow!!!

"And my spirit rejoices in God my Savior, for he has looked on the humble estate of his servant. For behold, from now on all generations will call me blessed; for he who is mighty has done great things for me, and holy is his name" - Luke 1:47-49