Well, kinda:)

Our family just sponsored a 10 year old little girl through Compassion International. Her information will be here in two weeks!!

We sat down as a family today and I asked the kids if they would want to sponsor a child from another country. I told them that for just $38.00 a month (the equivalent of a wii game, for Jude's understanding) we could help 1 child with food, education, medical care, and more.
They happily agreed, and then Jude ran back off to play with Zane.

Genesis excitingly sat down at my computer and browsed all the waiting children. She finally decided on 10 year old Awino Agatha from Uganda.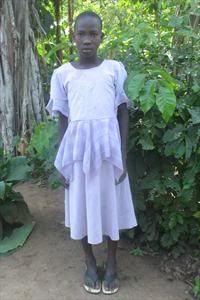 She was hesitant at first because Agatha has 9 other siblings in her little hut. Genesis didn't want the other children to be left out.

"What about her brothers and sisters, who will help them?"

Hmmmm

She liked that Agatha had similar interest as her like art, singing, and playing with dolls.
That will give them a lot to write about:)

Here's the thing. I grew up in church. So of course I heard all about sponsoring children. Heck, even if you don't go to church you hear about it on TV or at concerts.

Well, for some reason, I always had the idea that when you sent money only a few dollars actually went to the child. I also thought that they really didn't care about letters you may send since they couldn't read them anyway.

After researching Compassion International, I learned that is so far from the truth. Over 80 percent of your donation goes to the child. And they LOVE to receive your letters. Most of them keep them for years and even memorize every word.

Check out this awesome story. Watch to the end, and have tissues ready!
(Scroll to the bottom of this page and pause the music player)



God has really been shaking my world this past month. I have so much to share, but will wait for the right time.
Until then, I will leave you with some great reading found on these blogs:

Kisses from Katie

We are that family

And a great book - "Crazy Love"